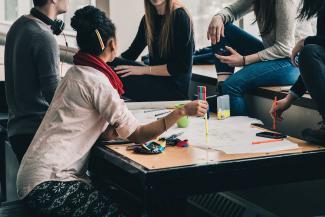 As college tuition continues to rise to unprecedented levels, student loan debt continues to rise as well. Between 1980 and 2016, tuition at public universities jumped 344 percent, while private universities saw tuition rise 241 percent.
Today the average student will graduate with more than $35,000 in student loan debt. For those that move on to graduate school, students can find themselves leaving school with more than $200,000 in debt. And while the rule of thumb is to not accrue more in loan debt then the first year average salary in your area of study, students pursuing medical or law degrees can find themselves saddled with hundreds of thousands of dollars in student loans upon graduation.
In 2017, student loan debt reached more than 1.4 trillion dollars. But what's even more startling is that as of 2017, over 2.8 million people over the age of 60 have outstanding student loans, with many having payments deducted from their monthly Social Security check.
Below is chart that offers a quick view of typical student loan amounts, the average monthly payment (over a ten-year period) based on the indicated interest rate, and how much interest you will ultimately pay when the loan has been satisfied.

There are some things you can do to help reduce student loan debt. Here are a few suggestions:
Consider living at home and attending a local university or community college. A Bachelor's degree can be obtained for less than $50,000 by attending a local college or university. Just the savings on room and board alone can average more than $35,000 over four years.
If living at home is not an option, find a roommate to help share expenses. Other students have found that tackling an accelerated course load helps, allowing them to graduate early.
If a local school is not an option, look into schools in your state – which keeps you eligible for in-state tuition, which is usually significantly lower than out-of-state tuition rates.
Get in touch with the financial aid office at the college or university you wish to attend. They can be an excellent source of information on various grants available, and can also help guide you through the student loan maze.
If you do have to take out a student loan, try to stick with a federal loan, which offers a fixed interest rate throughout the life of the loan. Federal loans also offer a variety of flexible repayment options that most private loans do not.
Take advantage of the grace period between graduation and the time you must begin repaying your loans (typically between six months to a year) to work out a budget for repaying your loans. If you have several federal loans, you can also consolidate them into one loan for easier repayment.
While it's not always possible to avoid student loans entirely, there are ways to reduce the amount of loans needed to complete your education. While many of them require some personal sacrifice such as living at home or adhering to a budget, those sacrifices will pay off in the future.
Resources
https://www.debt.org/students/
*This content is developed from sources believed to be providing accurate information. The information provided is not written or intended as tax or legal advice and may not be relied on for purposes of avoiding any Federal tax penalties. Individuals are encouraged to seek advice from their own tax or legal counsel. Individuals involved in the estate planning process should work with an estate planning team, including their own personal legal or tax counsel. Neither the information presented nor any opinion expressed constitutes a representation by us of a specific investment or the purchase or sale of any securities. Asset allocation and diversification do not ensure a profit or protect against loss in declining markets. This material was developed and produced by Advisor Websites to provide information on a topic that may be of interest. Copyright 2021 Advisor Websites.